Fact Checked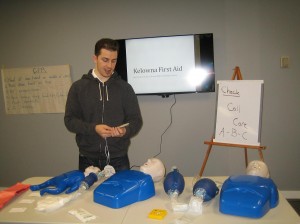 In need of a good laugh? Here are some funny first aid quotes, jokes, one liners…just about anything you would like to have a good laugh at the way fan is poked in what is an otherwise serious field.
Health is the first muse, and sleep is the condition to produce it.
I worked so hard for that first kiss And a heart don't forget something like that Like an old photograph Time can make a feeling fade But the memory of a first love Never fades away.
Do, do you got a first aid kit handy? Do, do you know how to patch up a wound? Tell me. Are, are, are you, are you patient, understanding? Cause I might need some time to clear the hole in my heart.
"Um. I'm really good at first aid. Like, the best." He was the god of healing, after all. He'd better be good at fucking first aid!"
― Rosanna Leo, Sunburn
"I want a tattoo over my heart that reads TRY HARDER YOU LAZY PARAMEDIC SHITBAG OR I WILL HAUNT YOUR BEDROOM FOREVER"
― Warren Ellis
A troop of Boy Scouts were being used as "guinea pigs" in a test of emergency systems. A mock earthquake was staged, and the Scouts impersonated wounded persons who were to be picked up and cared for by the emergency units.
One Scout was supposed to lie on the ground and await his rescuers, but the first-aid people got behind schedule, and the Scout lay "wounded" for several hours.
When the first-aid squad arrived where the casualty was supposed to be, they found nothing but a brief note:
"Have bled to death and gone home…"
When a car skidded on wet pavement and struck a telephone pole, several bystanders ran over to help the driver. A woman was the first to reach the victim, but a man rushed in and pushed her aside. "Step aside, lady," he barked. "I've taken a course in first-aid!"
The woman watched for a few minutes, then tapped him on the shoulder. "Pardon me," she said. "But when you get to the part about calling a doctor, I'm right here."
Hey girl, are you an AED (Automated External Defibrillated)? Because you are sending shock waves to my heart.
Patient – I'm dilated to meet you.
Reporter:I came, sir, to get you an interview.
The famous statesman:- Well, go home, write to the interview and give it to me for review.
-Please, sir, that's it, get to know him.
Definition of a hypochondriac – a person who wants to have their ache and treat it too!!
There you have it, the medical field is not all gloom, have a good laugh once in a while!