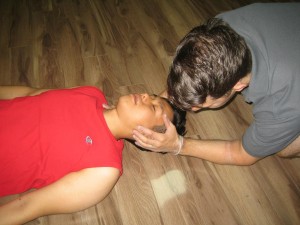 Do you need to re-certify your expiring WSIB-approved first aid and CPR award? Do you want to learn the latest techniques and receive Ontario WSIB-approved certification that is valid for 3 years? Register with Toronto First Aid to receive the highest quality, most advanced, and lowest priced first aid and CPR training in the Toronto metropolitan area. Popular WSIB-approved courses include standard first aid, a two-day course, and emergency first aid which is a one-day course. Both courses include CPR and automated external defibrillator training. This Toronto-based provider not only provides re-certification and regular public/private courses it also hosts safety training for programs such as WHMIS and TDG. Other available courses include Food Safety certification and pet first aid. Click here to visit the site and view the upcoming schedule of courses or use the contact details posted just below to inquire about a course or to register.
Easy Registration with Toronto First Aid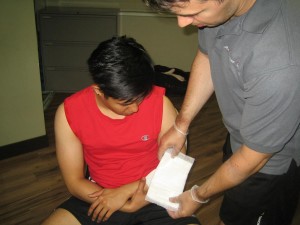 One of the components that makes this WSIB-approved first aid, safety, and food handling provider one of the most popular is its great customer service and convenient methods of registration. You can use the following registration information to register for a course:
Email: [email protected] – Emails are responded to within one business hour.
Telephone: 1-888-870-7002 – Customer service representatives are available from 7 am to 7 pm to help answer questions and to aid with registration.
Website: www.torontofirstaidcpr.ca – Online registration is available 24 hours a day. A full schedule of upcoming courses is available on the website.
Prerequisites for Re-Certifications in Ontario
In order to be eligible for an Ontario WSIB-approved standard first aid and/or CPR level "C" / "HCP" re-certification participants must meet the following requirements:
Participants must have received a previous award through St Mark James Training
Participants must have a current award (typically within the past 3 years)
Participants that do not meet these requirements must re-take the original course.
Quality St Mark James Training Programs at Toronto First Aid
Toronto First Aid is affiliated with St Mark James, with St Mark James overseeing all courses and classes being offered. First aid programs are full courses, inclusive of cardiopulmonary resuscitation (CPR) and automated external defibrillation (AED) training. Core topics in the first aid program include bleeding management, choking management, and cardiopulmonary resuscitation (CPR).
There are also CPR-only classes as well. Students can choose from three categories: A, C, and HCP. All three include adult CPR and AED training, while C and HCP include pediatric CPR and AED. HCP is specifically targeted at health care providers.
Private training
Students with scheduling problems can sign up for a private class, usually booked by big groups of trainees like companies. You can book an instructor for private training at home or for special event training (e.g. for employees, company team building). Inquire about instructor schedules and rates through e-mail or telephone call.
Full List of Available Courses
The following is a full list of courses that are available with Toronto First Aid:
Standard first aid (includes CPR and AED)
Emergency first aid (includes CPR and AED)
Childcare first aid (includes CPR level "B" and AED)
Basic Life Support (BLS)
Advanced Life Support (ACLS and PALS)
CPR level "A", "C" or "HCP" (AED training included)
Pet First Aid
Babysitting Training
Workplace Hazardous Material Information System (WHMIS)
MSDS
TDG
Food Safety Certification
For more information about the above-mentioned courses or to view the schedule using the contact information posted above.
Did You Know?
Types of arrhythmias
Arrhythmias can be classified according to speed: fast or slow
Tachycardia is a pulse or heart rate faster than 100 beats per minute.
Bradycardia is a pulse or heart rate slower than 60 beats per minute.
Having tachycardia or bradycardia doesn't automatically mean you have a heart condition. The heart rate often changes in response to different kinds of situations such as physical activity and temperature. Tachycardia is usually experienced after exercising as the heart works harder to provide our tissues with oxygen. When we are sleeping our resting heart rate can become bradycardic as well.