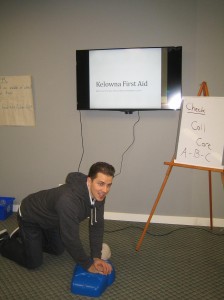 First established in 2009, Kelowna First Aid has been providing certification and renewal programs for first aid and cardiopulmonary resuscitation (CPR). Students keep choosing Kelowna First Aid over other providers because of the affordable fees, flexible schedules, and St Mark James-certified instructors. Signing up for the program you want is very hassle-free. You can find more details on the Kelowna First Aid website (rates, available classes, and schedules).
Contact and Registration Information
You can reach the Kelowna First Aid staff with the following contact details:
Click Here to Register for a Re-Certification Course On-Line!
The training facilities are very accessible by public transportation. There is free parking and restaurants available nearby the main training center.
First aid and CPR programs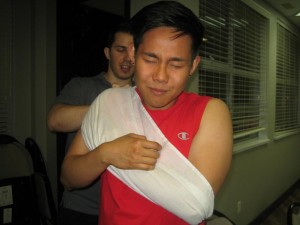 First aid programs are around 14-16 hours per week, with classes held at flexible times including evenings and weekends. Cardiopulmonary resuscitation (CPR) is included in the full first aid training program. However, stand-alone classes for CPR are also available. There are three levels, lasting 4, 5, and 6 hours long respectively.
Students can also book private instructors for special events like company outings and conferences. Just send an e-mail or give me a call to inquire about instructor rates and schedules.
Training course rates
Kelowna First aid provides the most competitive rates for all of its St Mark James CPR and first aid classes. No other service provider in the Kelowna community has less expensive prices for personal classes, group training, or refresher courses. Taxes, tuition, certification fees, and training manuals are included in the fees.
St Mark James CPR "C" Renewal – 47.99
St Mark James CPR "HCP" Renewal – 47.99
St Mark James Standard First Aid and CPR level "A", "C" or "HCP" Renewal – 74.99
Students who drop out and are able to give a 72-hour notice beforehand are entitled to a full reimbursement of the fees.
First aid and CPR training equipment
Certification and renewal
Certificate cards are given to students who are able to complete a program. Students can also request bigger or wall-mount certificates. These are only valid for three years during which they can be renewed in a recertification or renewal program. Certificates must be current and credible for them to be eligible for re-certification. The renewal / re-certification class is 8 hours long for first aid and included CPR level C.
Registration
Students can enroll via e-mail, telephone call, or in-person during business hours. There is also an online registration form on the website. Choose a program and enroll today!
Get a preview of a first aid lesson below.
Did You Know?
Arrhythmias
An irregular heartbeat or rhythm is called an arrhythmia. Arrhythmias are caused by existing cardiac problems and electrolyte imbalances. Arrhythmias can cause the victim to feel their heart beating too fast or too slow, or both. Victims can experience trouble breathing and changes in their level of consciousness.
One of the dangerous kinds of arrhythmia is ventricular fibrillation (VF). The heart beats very fast and erratically and causes the ventricles to quiver without pumping any blood to the rest of the body. This can cause heart failure if untreated.
First Aid Re-Certification Registration Form for Kelowna, British Columbia