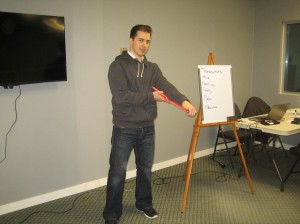 Training in CPR/first aid is a popular program among students today, especially as awareness is raised about the dangers of heart disease. Getting trained in CPR has become very accessible, with enrollment offered through various methods, not just confined to personal enrollment. At our training provider, Las Vegas CPR, you can enroll for a class on your own time – through the internet. We allow students to submit their application through the Las Vegas CPR website or e-mail. Whatever is most convenient for you!
What's the big deal about CPR?
The acronym "CPR" stands for cardiopulmonary resuscitation. It is a set of skills that is used to return normal, spontaneous respiration and circulation in the body. The heart stops beating during a condition called cardiac arrest. Cardiac arrest can happen because of a sudden heart attack or heart failure. When the heart stops beating, respiration usually becomes irregular or stops completely as well.
CPR helps manage this situation by giving chest compressions which manually compress the heart and sends blood circulating through the body. Compressions also help in trying to restart or restore the spontaneous beating of the heart. To manage respiration, rescue breaths are given to the victim. They can be given using a bag valve mask tightly sealed over the mouth or mouth-to-mouth (common in out-of-hospital cardiac arrests).
CPR/first aid programs
We offer five CPR/first aid courses and three re-certification courses at Las Vegas CPR. These programs are scheduled through the week at various times. When our classes cannot accommodate all applying students, we often open new schedules during the evenings and weekends.
Our courses are categorized into Basic Life Support, Advanced Life Support, and re-certification. These courses are the same in all our training locations (not just Las Vegas CPR). Only one of the programs below is a general public program (Heartsaver CPR/first aid). The rest of the basic courses are for health care providers while advanced courses are for health care professionals.
Category 1: Basic Life Support
Heartsaver CPR/first aid – 4 hrs. (general public)
Heartsaver C CPR/first aid – 4.5 hrs. (health care providers)
Basic Life Support for Health Care Providers – 4.5 hrs.
Category 2: Advanced Life Support
Pediatric Advanced Life Support – 14 hrs.
Advanced Cardiac Life Support – 16 hrs.
Category 3: Re-certification
Basic Life Support for Health Care Providers – 4 hrs.
Pediatric Advanced Life Support – 6 hrs. and 20 mins. / 8 hrs. and 20 mins.
Advanced Cardiac Life Support – 5 to 6 hrs.
Certificates
All of the courses listed previously are certification classes. We award a student with complete attendance and who is able to pass the certification exam a CPR training credential. Credentials are valid for two years before they expire. However, we remind our trainees to sign up for re-certification before their certificate's expiration date. If they let the credential expire, they have to take the training program again.