Awareness on the importance of lifesaving skills has been raised as this generation's technological advancements spread information through social media and the internet. Learning CPR and first aid has never been this accessible until now. At our training providers, we offer students a wide range of programs that focus on basic and advanced CPR. You can visit each of our location webpages and choose a program and schedule from our list.
Our providers can be found in five states in the US, over six cities. All of our providers offer the same programs at the same rates. Schedules may vary, depending on the demand of our students.
Locations: Honolulu, Las Vegas, Los Angeles, Portland, San Francisco, Seattle (Just add the word 'CPR' at the end of each city name to get the provider name).
Work requirements
CPR is a common requirement in most workplaces, especially high-risk occupations. Sometimes, even office workers are required to get at least have basic CPR and first aid. Having basic skills ensure that you will be able to act quickly during an emergency, preventing unnecessary complications like severe injury and even death.
Emergency situations, CPR, and first aid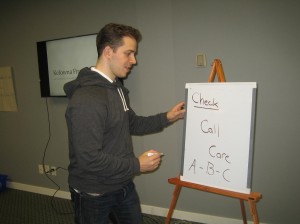 But what is CPR anyway? CPR is a set of skills that is used to manage cardiac arrest. Cardiac arrest happens when the heart stops beating and cannot send needed blood through the body. Giving CPR involves the use of compressions, ventilation, and defibrilllation – all to return the spontaneous beating of the heart and the circulation of blood in the body.
Compressions and ventilations are given at a ratio of 30:2 for both adults and children.
The depth of compressions for adults is at least 2 inches and approximately 1.5 inches for children.
Ventilations can be given with either a bag valve mask or mouth-to-mouth (with a barrier device).
As much as possible, use gloves and a mask when tending to a patient. If you are a trained rescuer, it is best to have gloves and a mask with you at all times so you can be prepared for any emergency you may encounter.
CPR and first aid training
We offer five training programs in CPR and first aid. There are three basic courses and two advanced courses available at our locations.
Basic Life Support
Heartsaver – general public, 4 hours, one-rescuer CPR
Heartsaver C – health care providers, 4.5 hours, one-rescuer CPR
Basic Life Support for Health Care Providers – 4.5 hours, one and two-rescuer CPR
Basic Life Support for Health Care Providers re-certification – 4 hours
Advanced Life Support
Pediatric Advanced Life Support (PALS) – 14 hours, pediatric medical management
PALS re-certification – 6 hours and 20 minutes / 8 hours and 20 minutes
Advanced Cardiac Life Support (ACLS) – 16 hours, adult medical management
ACLS re-certification – 5 to 6 hours
*Certificates expire after 24 months.
Before
they expire, the rescuer has to get them renewed through a re-certification class. Re-certification is offered for three of our training programs. If you need to renew for the other programs, you will have to retake the program.