Many people in Surrey are required to have current first aid and / or CPR certification for employment or academic purposes. Vancouver First Aid Ltd is the largest, lowest priced and most experienced provider of first aid re-certifications in Surrey. Re-cert classes start as low as 30 dollars and customers can select from a wide range of different dates, times and locations. Participants will renew certification and learn the latest standards in cardiopulmonary resuscitation (CPR) as mandated by the ILCOR consensus of 2012. Participants can also register for other workplace required training such as food safe level 1, occupational first aid level 1, WHMIS and TDG training. Register for a course today using the contact details provided below.
Sign Up for a Course in Surrey Today!
There are four different ways to sign up for first aid training: e-mail, website, telephone call, and walk-in. E-mails will be replied to during business hours, same with telephone calls and walk-ins. Use the following details to register for a course:
Call centre hours are from 7 am to 5 pm Monday to Sunday. On-line registration is available 24/7.
More Information About the Surrey Training Centre
The main first aid training centre in Surrey is located in the Newton Business District. This provider offers courses Monday to Sunday and provide free parking and great access to public transit. View the map below for more location information.
Easy, quick fees settlement
All fees are settled during enrolment. Some students are worried about expensive training fees because of additional expenses on top of the tuition fee. With Vancouver First Aid, there are no additional expenses. What you pay during enrolment is everything in total – tuition, taxes, certificates, registration (with St Mark James), and manuals.
If ever you decide to drop out and not finish your course, you are still entitled to a full refund, as long as a three-day notice was given to the staff.
The quality of training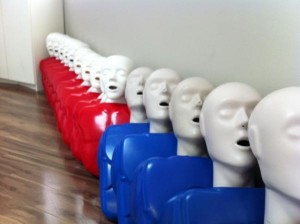 Vancouver First Aid boasts one of the best training programs for first aid (including re-certification). The program is taken by a variety of people – students, workers, and health care providers. The program curriculum is comprehensive, covering a wide range of first aid topics. This provider has WorkSafe BC approved instructors or Instructor Trainers to teach all programs to assure quality that the students receive.
Topics that are typically covered in the program are:
Cardiopulmonary resuscitation (CPR)
Automated external defibrillation (AED)
Wound care
Bandaging
Managing ABC injuries (airway, breathing, circulation)
Seizures
Poisonings
Hypothermia
Frost Bite
Heat Exhaustion
Head and Neck injuries
Anaphylaxis
Choking
Internal Injuries
Broken bones and fractures
These topics are covered using the latest training techniques and equipment.
CPR Only Courses
CPR-only programs are also available. There are three levels: A, C, and HCP. Each caters to a victim age group and type of trainee.
A and C – for first time trainees and non-health care workers; A teaches CPR for adult victims and C teaches adult and pediatric CPR
HCP – for health care providers, adult and pediatric CPR
All three categories teach students how to use automated external defibrillators (AEDs).
Private classes are also available so be sure to inquire about them if you plan in getting private training or booking an instructor.
Did You Know?
BPPV (Benign paroxysmal positional vertigo)
Simply known as vertigo, BPPV is a sudden feeling of spinning due to positional changes – such as standing up too quickly. The episodes can be mild to intense and are triggered by specific changes in position. Even simply moving your head up and down or turning to the side in bed can trigger bouts of dizziness.