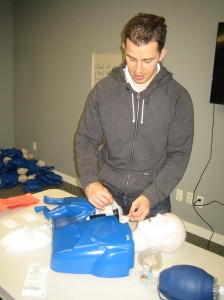 Saskatoon First Aid is the leading St Mark James first aid and CPR renewal / re-certification provider in Saskatoon.  A large number of courses and renewals are provided at different schedules throughout the week, even on evenings and weekends. Participants can also register for online safety training such as Workplace Hazardous Material Information System (WHMIS), Transportation of Dangerous Goods (TDG), Fire Safety, Food Handling, and other certification programs.  Rates are very affordable at Saskatoon First Aid as well. You can visit the Saskatoon First Aid website for completed details on rates, schedules, and available classes and instructors. To register for the first aid and or CPR re-certification course in Saskatoon click the link above or use the contact information provided just below.
How Do I Register for a Course at Saskatoon First Aid?
To register for a open course, re-certification or book a private course use the following contact information:
Email Address: [email protected]
Telephone Number: 1-888-870-7002 (Toll-Free)
Website Address: http://firstaidsaskatoon.ca
Registration is quick and easy!
Testimonials
Here's what people are saying after taking a course with Saskatoon First Aid
I needed a re-certification fast and these guys were definitely helpful. I called late at night and still managed to register over the phone for the course the next day! I learned all the latest stuff and got my certificate at the end of the course. Thanks guys!
Here's another review:
I was very nervous because I had never taken a first aid or CPR course before. The teacher broke it down to manageable steps  and we got to practice our skills with hands on training. I was very happy with everything I learned and was delighted with the price. I strongly recommend these guys.
See what Saskatoon First Aid has to offer and register for a course today.
Topics Covered in a Standard First Aid Re-Certification Course
The following are some of the topics covered in a Saskatchewan workplace-approved renewal course for standard first aid:
ILCOR and American Heart Association standards in CPR and AED
Circulatory emergencies such as heart attacks, angina, stroke, and T.I.A's
Breathing emergencies such as shock, asthma, hyperventilation, and anaphylaxis
Sudden medical emergencies such as seizures and diabetic emergencies
Environmental emergencies such as hypothermia, heat stroke, heat exhaustion, and frostbite
Skeletal injuries such as broken bones, fractures, spinal and dislocations
Muscle and joint injuries such as sprains and strains
Internal and external bleeding emergencies such as amputations, embedded objects, and abrasions.
These topics are covered in an 8-hour recertification course offered on the Saskatoon website.
Prerequisites for Re-Cert Courses in Saskatoon First Aid
In order to be eligible for a re-certification course, participants must have a current award that has been provided through a credible provider. Only a few certificates can be renewed such as standard first aid, CPR level "C" and "HCP". For more information or to register for a re-cert course in Saskatoon use the contact information posted above.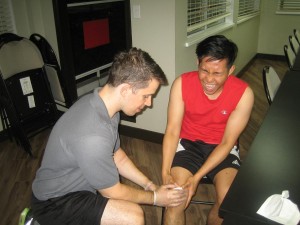 Did You Know?
Arrhythmias: causes
Arrhythmias are irregular heart rhythms or abnormal electrical impulses in the heart. These can cause the heart to beat erratically by pumping too fast or too slow (or both). Arrhythmias are typically caused by electrolyte imbalances and underlying heart problems. Here is a full list of possible causes of an arrhythmia:
Heart attack
Damaged or scarred heart tissue
Changes in heart structure (e.g. cardiomyopathy)
Coronary artery disease (blocked coronary arteries)
Hypertension
Hyperthyroidism
Smoking
Stress
Alcoholism
Drinking too much caffeine
Drug use
Stress
Electrical shock