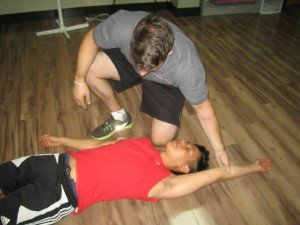 Do you need to renew an expiring first aid or CPR award? If you received your previous certification through a credible Canadian provider you may be eligible to attend a shorter and cheaper renewal course. Re-certification courses are available for a limited number of courses such as standard first aid and stand-alone CPR courses. The leading provider of re-certification, full courses, and safety training in Victoria First Aid. Its popularity is due to its experienced and knowledgeable teachers, low course costs, comfortable training center, and common-sense business approach. Class rates and schedules, as well as an online registration form, can be found on the Victoria First Aid website. Participants may also register by telephone, email, online chat, or in-person at the training location. To enroll in a CPR or first aid re-certification course in Victoria use the contact information provided below.
Registration / Contact Information
To register for a re-certification or full course with Victoria First Aid use the following contact information:
Email Address: [email protected]
Telephone: 1-888-870-7002
Website: www.firstaidcprvictoria.ca
Staff is available to help with registration and other available services Monday to Sunday from 7 am to 6 pm. Emails are answered within one business hour.
Top 10 Reasons to Register for a Course with Victoria First Aid
Finding a great first aid provider can be a difficult task. Here are the top ten reasons why you should register with Victoria First Aid:
Nobody offers workplace-approved and WorkSafe BC-approved first aid and/or CPR courses for lower prices
Classrooms are neat, tidy, and well-maintained to provide a comfortable learning environment
Instructors are professional, experienced, and knowledgeable and provide an interactive learning experience
The training center is centrally located with lots of available free parking
Plenty of amenities are located nearby the classroom including great restaurants for breaks
Registration can be completed via email, telephone, online chat, in-person, or online via the website
The latest first aid and CPR standards are provided through the American Heart Association to ensure you get the best training possible.
A wide range of courses are available including online safety training and food safe level 1
Re-certifications are offered multiple times per week and are also available in private training at the facility or yours
This provider has great testimonials and customer reviews
What Courses Are Available at Victoria First Aid?
A wide range of courses is available with this provider in Victoria. Here's a brief list of what you can register for:
Standard first aid
Emergency first aid
Childcare first aid
CPR level "A", "C" or "HCP"
Basic Life support
Advanced Life support
WHMIS
TDG
Food Safe level 1
Food Safe level 2
Fire Safety
First Responder
Mask-fitting
To find out more about these courses or to see the upcoming schedule use the contact information provided above.
What Re-Certifications Are Available?
Did You Know?
Basic First Aid for Heart Attacks
A heart attack may occur without any warning and every second counts in order to save the life of a person who is experiencing a heart attack. Most of the time, the condition may occur without a warning but telltale signs are usually apparent such as the feeling of discomfort, sudden chest pain, dizziness, anxiety, and sweating. Calling for immediate medical assistance during a heart attack is crucial but knowing how to apply first aid until professional medical help arrives can be life-saving.
When a person suddenly gets a heart attack, call 911 immediately. In the meantime, if you are waiting for help to arrive make sure that the person is placed in a comfortable position. Sitting while leaning on the wall or a chair is an ideal position to keep the person comfortable and try to loosen any tight clothing. Ask the person whether he has a heart condition and if he is taking medication for it such as nitroglycerin and help him take the medicine if he has it with him. If the person becomes unconscious, give CPR immediately if you know how to give one. If not, make sure that the person is proper breathing and wait until help arrives.
Atrial fibrillation
The human heart is made up of four chambers: two atria leading into two ventricles. In an arrhythmia, the impulses that cause the heart to contract are irregular or blocked. This can cause the heart rate to speed up, slow down, or both. In atrial fibrillation, the impulses cause the atrium to fibrillate or quiver. Because the atria are not working properly, the ventricles do not get filled with enough blood to pump to the rest of the body.