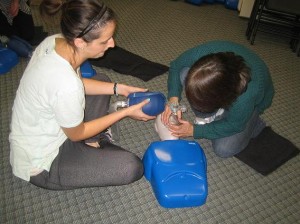 The leader in St Mark James training programs in Manitoba is Winnipeg First Aid. This provider is the largest and most popular St Mark James renewal provider in the community. Nobody else offers more courses with better instructors and at lower prices than this provider. Classes are taught by quality instructors who are all certified by St Mark James. Students are only trained by the best in top-notch training centers.
Registration
You can contact Winnipeg First Aid with the details below.
Website: www.firstaidwinnipeg.ca
Email: [email protected]
Telephone: 204-272-8720
Training Location: 222 Osborne St, Unit 20, R3L1Z3, Winnipeg
Signing up for a class is very convenient. You can visit the website to view the list of classes and schedules, and use the registration form to sign up. Telephone calls, e-mails, and walk-ins are also other ways to enroll.
Register for a First Aid Re-Certification Course in Winnipeg. Click Here.
There are several facilities throughout the city, with the main center in Osborne St. All training centers are easy to reach through public or private transportation. Restaurants, shops, and free parking are available within walking distance.

View Larger Map
Availability of Training courses
Winnipeg First Aid presents customers the opportunity to sign up for courses at very flexible schedules. Classes are usually available throughout the entire week, with the most popular ones with additional evenings and weekend classes. Standard first aid and CPR programs are 16 hours long, with recertification classes lasting 8 hours.
First aid core topics include disaster management, injury first aid, and health care promotion. Trainees at Winnipeg First Aid are taught using high-quality training equipment and the latest manuals. First aid programs also include CPR training but CPR-only programs are available as well. There are three CPR levels: A, C, and HCP. CPR levels vary based on the age of the victim. For example, CPR level "A" teaches participants about CPR for adult victims only.
Training Course Fees
Winnipeg First aid delivers the most affordable rates for all programs. All rates and extra expenses are paid during enrolment. Complete fees are inclusive of tuition, taxes, certification, registration fees, and training manuals. Take a look at some of the rates below.
Standard First Aid, CPR, and AED Renewals – 73.99
Emergency First Aid, CPR, and AED Renewals – 53.99
CPR level "A", "C", "HCP" and AED Renewals – 53.99
Full refunds are given to trainees who drop out, as long as they give a 72-hour notice.
Other Services Available with Winnipeg First Aid
This provider offers a variety of different services outside of re-certification courses. These services include:
Private infant CPR
Transportation of Dangerous Goods (TDG) – Online Training
Workplace Hazardous Information System (WHMIS) – Online Training
Food Handling Courses
Mask Fit Testing
First Aid product sales and re-stocking
First Aid audits
For more information about the services available with this provider use the contact information posted above.
Re-Certification
Certificates are only valid for three years, during which they have to be renewed / re-certified. Recertification is available twice a week, inclusive of CPR (level C) recertification. The certificates are wallet-sized but bigger ones can be requested.
Private Classes
Winnipeg First Aid is amongst the handful of St Mark James providers in Winnipeg that give personal St Mark James first aid training. Instructors can be hired for private training or for special events like company conferences and outings. You may inquire about the rates and schedules of instructors using the details above.
Browse the Winnipeg First Aid site to register for first aid, CPR, and AED courses and recertification classes with the most qualified and skilled course instructors.
Did You Know?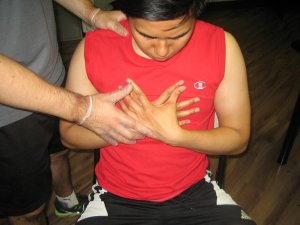 An irregular heart rhythm is called a cardiac arrhythmia. This can happen due to an existing cardiac problem or an electrolyte imbalance. Arrhythmias occur when there are abnormal impulses sent through the heart which cause it to beat irregularly. Signs and symptoms may manifest as:
A "flutter" in your chest
Fast or slow pulse (or a mixture of both)
Chest pain or discomfort
Shortness of breath
Dizziness
Loss of consciousness
Register for a First Aid Re-Certification Course in Winnipeg Here