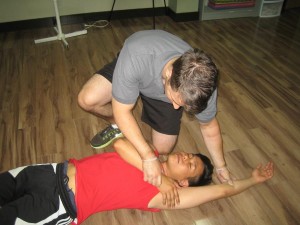 Red Deer First Aid stands out as the leading provider of Alberta Occupational Health and Safety (OH&S) approved first aid and cardiopulmonary resuscitation (CPR) certification and recertification courses. This experienced and popular provider has been offering workplace and academic-approved certification courses in Red Deer since 2008. Participants may register for a wide range of courses including OH&S-approved standard first aid, childcare first aid, food safety certification, fire safety, WHMIS, TDG, babysitting first aid, H2S Alive, and many more. Course prices are the lowest in Alberta and participants will attend a conveniently located training center that provides free parking and a comfortable learning atmosphere. Read through this page to find more information about this provider, what it offers and how to register.
How To Contact This Provider?
To contact this provider use the following details:
We also have an online registration form on this page. To view, it scrolls to the bottom or clicks the link below.
Click Here to Enrol in a OH&S Approved Re-Certification Course in Red Deer Now!
Why Register With This Provider?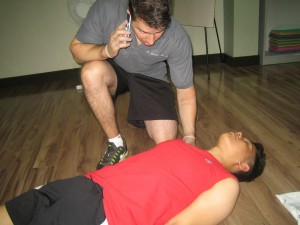 Here are the top 10 reasons to register with this first aid, CPR, and safety training provider:
Nobody beats the low prices offered by this provider
Certification meets Alberta OH&S requirements
Renewal courses are available multiple times per week
Private classes are available for groups of almost any size. They can be hosted at the training facility or, if space allows, can be held at your facility
Participants who request refunds can get a full refund as long as it is prior to 72 hours of the course
A no-pressure policy states that if a participant who attends and does not complete the course the first time can re-take the course at no extra cost
Facilities are clean, well maintained, and conveniently located
Registration is available via telephone, chat, email, or online. CSRs are available to take your call anywhere from 8 am to 6 pm Monday to Sunday
A high volume of provided courses ensures that you'll be able to find a class that meets your schedule
Classes are never canceled.
What Courses Are Available?
The following courses are available with this provider
Alberta OH&S approved standard, emergency, and childcare first aid and CPR
CPR and AED-only courses
Food Safety Certification
Pet First Aid
Babysitting Training
Fire Safety
MSDS Training
WHMIS Training
EMIR
First Responder
To find the schedule of the above-mentioned courses uses the contact information provided above.
Who Takes First Aid Training in Red Deer?
Many people in Alberta are required to be certified in first aid and/or CPR. Here's a list of some of the employee types that need this training/certification
CBSA Agents
Police Officers
Security Guards
Life-guards
Fire-fighters
Government Employees
First Aid attendants
Oil Workers
Gas Workers
Miners
Heavy Industry Workers
Public Transit Operators
Health Care Professionals
Massage Therapists
Dentists
Nurses
Medical School Students
Students
Fitness Workers
Teachers
Caregivers
Daycare workers
Find a course that works for you by visiting the Red Deer First Aid website. Did You Know? The human heart has four chambers: two aortas and two ventricles. The right atrium takes unoxygenated blood from the body and pumps it to the right ventricle. The right ventricle then sends the blood to the pulmonary artery and to the lungs. After the blood gets filled with oxygen, the lungs send it through the pulmonary vein and into the left atrium. The left atrium then pumps blood to the left ventricle which then pumps it through the aorta and to different parts of the body. If any of these chambers fail, it can cause heart failure and cardiac arrest.
Online Registration Form for Alberta OH&S Approved Re-Certifications in Red Deer, Alberta