Fact Checked
Causes and Symptoms Of Food Poisoning
Eating habits are shifting. More food is now consumed sometime after its initial preparation.
This means that safe food management to prevent food poisoning is becoming more vital.
Food poisoning symptoms, which can begin within several hours of consuming infected food, often include queasiness, nausea or diarrhea.
Most often, food poisoning is not that severe and improves without treatment. However, some people have to go to the hospital for treatment.
Common Symptoms Include:
Stomach pain;
Nausea;
Diarrhea; and
Headaches.
How Does Food Become Infected?
Bacteria are everywhere — in the air, dirt and water. Bugs and animals (including humans) transmit and will infect any surface they touch.
In the correct conditions (dampness and warmth), bacteria reproduce, producing huge colonies in food within a few hours. Food affected in this way can still seem healthy and normal, unlike visibly 'off' food that tastes and smells horrible. Eggs, seafood, chicken, meat, dairy products and cooked rice are particularly susceptible.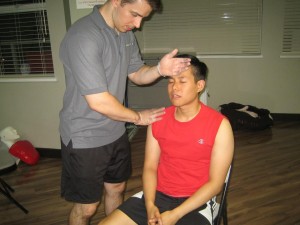 Viral food contamination can occur when individuals who are touching foods are infected with certain germs, or when food is cleansed or grown in infected water.
Preventing Food Poisoning
You can guard your family from food poisoning by following these rules:
Keep cold and frozen food in the freezer as soon as possible after buying it.
Clean your hands with soap and lukewarm water before touching food.
Defrost frozen food in the microwave to avoid bacteria growing on the exterior while the inside remains frozen.
Keep uncooked and cooked foods well separated in the fridge.
Serve up cold food straight from the refrigerator.
Warm foods should be kept at simmering point.
Cooked foods that will not be eaten right away should be cooled quickly and placed in the fridge.
Clean dishcloths with warm water and leave them to dry between uses.
Don't cook food for other people when you are ill, particularly during or directly after an incident of gastroenteritis.
Related Video on Food Poisoning
https://www.youtube.com/watch?v=-G3_Pc6_ezo