Fact Checked
Introduction 
Suffering with pain in the area of your ribs can signal that you have broken or bruised the ribs. In most cases, this pain is often considered very intense, and will take a couple of weeks to clear up. In most cases, if you simply fell and do not feel as if this was serious, you can avoid the doctor. The doctor often recommends only having this checked if you were involved in a serious accident.
Are your Ribs injured?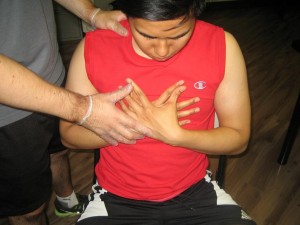 This is a common question asked by many who have never had their ribs injured. This injury is very painful and the pain is often worse when you breathe in. In addition, you may find that you can only take shallow breaths, but you must try to breathe normally in order to prevent other lung issues from occurring. There can also be swelling along the chest or you may feel very tender in this area.
Dealing with Broken or Bruised Ribs at Home
Broken or bruised ribs can be taken care of at home, and it is a very simple procedure for taking care of this issue. Pain relief is very important during this time, as you want to ensure that you are not feeling too much pain which could affect your breathing. Here are a few tips to follow:
Take over the counter pain relief regularly to ensure this stays in your system
You can utilize an ice pack to the chest during the first few days if swelling is a problem, this can also help with a bit of the pain
You will need to rest, especially if you are normally physical in life
If you keep somewhat mobile, you will find that you are able to keep your lungs more clear
If you need to cough, hold a pillow to your chest to ease the pain
Consider breathing exercises, like taking 10 slow and deep breaths every hour to help in keeping the lungs clear
When to Go to the Doctor
If you feel as though the pain is not getting any better, seek professional help as they can prescribe you with a stronger pain medication if needed. In addition, you will want to see your doctor if you notice:
You are having shortness of breath
There is pain in the shoulders or stomach
You start to cough up blood
There is pain in your chest
You begin to cough up mucus
You start to run a fever
Related Video on Broken Ribs