Fact Checked
An oropharyngeal or oral airway is a medical device used to keep the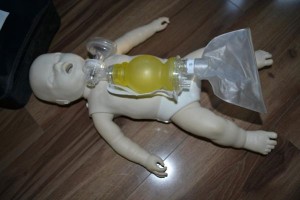 airway patent. Inserting oral airway requires proper training through advanced first aid courses.
Ensuring patent airways is crucial when providing first aid. An oral airway, or simply an airway, is a device commonly used in emergency situations to keep the patient's airway open.Although basic life support can be performed even without this equipment, delivery of oxygen is more effective when devices are used.
An oral airway is used on an unconscious patient who do not display gag reflex (vomiting reflex). Inserting airway to a conscious patient can cause vomiting or constriction of neck muscles further constricting airflow. As with any first aid technique or procedure, it is important that you know how to insert airway properly. Here's how an airway is inserted:
Choose the appropriate size of oral airway for the victim.
Position the victim on his back. The neck is hyperextended or tilted to open the airway, except if neck injury is apparent or suspected. In case of neck injury, the jaw-thrust maneuver is used with extreme caution.
Cross the forefinger and thumb of one hand and place them on the upper and lower teeth at the corner of the patient's mouth. Spread your fingers apart to open the victim's jaw. Keep the mouth open.
Position the airway so that the tip points upward, towards the roof of the victim's mouth.
Insert the airway and slide it along the roof of the mouth and towards the back of the mouth or until resistance is met. Be careful not to push the victim's tongue back into the throat. Make sure to watch the airway as you slide it down the throat. Inserting the oral airway should not be performed by "feel" only.
Gently rotate the airway so that the tip is pointing down into the victim's throat.
Keep the victim's head hyperextended. Minimize head movements if spinal injuries are suspected.
The flange of the airway should rest against the victim's lip. If the airway is too short or too long, remove it and change with an appropriate size of oral airway.
Continue mouth-to-airway ventilation. The same artificial ventilation procedures are taken.
Monitor the victim closely. If the victim vomits or gags as you insert the airway, withdraw it at once. Removal of airway is accomplished by reversing these procedures.
For an oral airway to be effective, it should fit the victim's throat properly. Make sure to select the correct airway size for the victim. To choose the right size, place the airway at the side of the mouth. It should extend from the center of the mouth to the angle of the lower jaw; or from the corner of the mouth to the tip of the earlobe. Do not use an airway until it has been properly sized.