Fact Checked
Introduction to Bunions
Bunions are known as the deformation of the bone joint at the large toe base. Medically it is known as the hallux valgus.
Bunions sign includes the position of the large toe of the foot towards other toes of the similar foot. On the other hand following are some other symptoms of Bunions: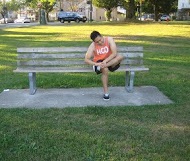 The bony and swollen bump on the outer edge of the foot.
The swelling and pain on the joint of the big toe. The pain of the joint becomes worst if you wear shoes.
Callused, hard and redness in the skin caused due to your toes overlapping.
The bunions result in painful skin.
Changes in the form of the foot that creates problems for you to find the best fit shoes.
If you don't treat your bunions problem, then you can make your bunions condition worst. So it is very important for you to treat this condition. When you see your GP, they will confirm you about the symptoms of the condition and then examine the foot. In a few cases, GP may ask for the X-ray.
Bunions are more general in females rather than males. The reason behind it may be the shoe shape and style that are required by females.
What are the Causes of Bunions?
Generally, you don't know the right bunions cause, but these problems are hereditary. In some cases, tight fitted shoes cause bunions. While in a few cases, the bunion is caused by gout and rheumatoid arthritis.
What are the Ways to Treat Bunions?
Bunions can be treated with multiple ways. The non-surgical ways of treatment include painkillers, orthotics, and the bunions pads. On the other hand, you have to go for the surgery if you are having it in severe condition. The surgery type depends upon the symptoms severity, the age of the patient, the deformity level, and other medical conditions.
The Complications of Bunions
In case, if the Bunions problem is not treated well then you may face more problems. For an example, it can cause the arthritis problems in your toes. The patient can also face problems after their surgery. Bunions can also come back after surgery. It also depends upon the surgery type that you got:
The stiffness in the joints of the toes
The delay of the foot bone to get healed or the fixing of the bone in the wrong position
The pain faced at the base of the foot
The foot nerves damage
The pain and swelling of the foot for a longer time period.
Related Video On Bunions
https://www.youtube.com/watch?v=jCr3wbKFUFA